Catalogs

>

Addfield PET100 Pet Cremation Machine Datasheet AI
Catalog excerpts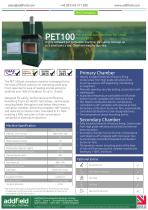 Pet cremation machine for small PEIIUUhouse pets. Highly compact pet cremation machine. Can safely manage up to 8 small pets a day. Clean and easy to operate. The PET 100 pet cremation machine is designed to be the most efficient solution for cremating small pets. Front opening for ease of loading and de-ashing to optimise your daily throughput to up to 10 pets. Designed for safety, performance and efficiency benefiting from Hot Hearth technology, continuously recycling heath throughout and below the primary cremation chamber, delivering complete 360° heating and reducing cremation time. Unrivalled in it's field boasting a 40% reduction in fuel consumption compared to alternative solutions. Machine Specification External L x W x H (mm) 2100 x 1 150 x 2100 Weight (approx tonnes) Nominal Burn Rate UK* (kg/hr) Burn Rate [Export Only]* (kg/hr) Thermal Capacity (kW) Power Supply 50/60 hz Door Aperture Fuel Types Insulation Fire Brick Insulation Board Fire Brick (Alumina) Double Pass Diesel, LPG, N-Gas Grade E23 *We reserve the right to change the specification, dimensions and quality of materials from time to time, so long as the alteration is minor or an improvement to the said product. addF eld Incinerate Cremate Primary Chamber • Heavily insulated internal refractory lining. Constructed from high grade refractory brick ensuring a secure self supporting, interlocking arrangement. • Manually opening, securely locking, access door with viewing port. • Automatic temperature controlled on-off waste ignition burner complete with internal air fans. • Hot Hearth Combustion Burner, temperature controlled on-off, complete with internal air fans. • Secondary combustion burner air fans, automatically controlled distribution to their designated area. • Two temperature sensor mounting points. Secondary Chamber • Fully insulated internal refractory lining. Constructed from high grade refractory brick and low thermal mass insulation. • Secondary chamber burnout burner, temperature controlled on-off complete with internal air fans • Automatically controlled integrated combustion burner air fans. • Temperature sensor mounting point at the base of the exit flue ensuring the chamber reaches the Addfield Environmental Systems Limited Unit 9l | IZone 4l |l Burntwood Business Park Staffordshire! | |WS7 3XDl | lUnited Kingdom © Addfield Environmental Systems Ltd. All information should be used as a guide only, specifications are subject to change without notice.
Open the catalog to page 1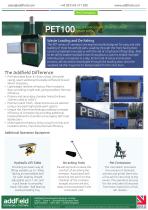 PET100 Pet cremation house pets. lachine for small jf Waste Loading and De-Ashing The PET series of cremators are ergonomically designed for easy and safe loading of most household pets. Loading through the front facing door can be completed manually or with the aid of a hydraulic lifting table. Able to be safely loaded multiple times throughout a cycle to enable multiple individual pet cremations in a day. At the end of every incineration process, ash should be discharged through the loading door onto the supplied catcher tray prior to being loaded for the next burn. The Addfield...
Open the catalog to page 2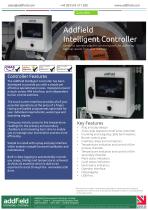 Addfield Intelligent Controller Simple to operate adaptive control system for achieving optimal results from your machine. Controller Features The Addfield Intelligent Controller has been developed to provide you with a simple yet effective operational process. Designed around a touch screen HMI interface, and independent burner control switches. The touch screen interface provides all of your essential operations at the press of a finger. Having pre-loaded programmes optimised for your individual requirements, waste type and operating regime. Giving you instant access to live...
Open the catalog to page 3
All Addfield Environmental Systems catalogs and technical brochures

Compare up to 10 products