Catalogs

>

MINI AB
Catalog excerpts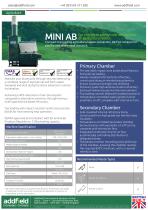 For complete and secure destruction of agricultural waste. Compact top loading agricultural waste incinerator. Perfect solution for poultry and other small livestock. Primary Chamber QUALITY ASSURED FIRM QUALITY ASSURED FIRM Maintain your biosecurity through securely destroying a complete range of Agricultural and Farm waste. Designed and built along the latest advances in animal incineration. Achieving a 40% reduction in fuel consumption compared to alternative solutions, through having a multi layered brick based refractory. Top loading with impact resistant reinforced concrete blocks for hard wearing easy operation. DEFRA approved and compliant with EU Animal By Products Regulations. 250kg loading capacity. External L x W x H (mm) Internal (at widest point) L x W x H (mm) Weight (approx tonnes) Nominal Burn Rate UK* (kg/hr) Burn Rate [Export Only]* (kg/hr) Max Thermal Capacity (kW) • Pre-cast block impact zone protecting refractory lining during loading. • Heavily insulated internal brick refractory, constructed along an interlocking systems to ensure maximum strength and resilience. • Premium grade high alumina content refractory brickwork delivering optimal thermal retention. • Top loading counter balanced insulated access lid. • Temperature controlled waste ignition burner automatic on-off, complete with internal air fans. Secondary Chamber • Fully insulated internal refractory lining. Constructed from high grade low thermal mass insulation. • Temperature controlled Secondary chamber burnout burner with automatic on-off control, complete with internal air fans. • Integrated combustion burner air fans automatically controlling distribution to designated areas. • Temperature sensor mounting point at the top of the chamber, ensuring the chamber reaches the required 850°C minimum, with a 2 second retention time. Recommended Waste Types Door Aperture Control Panel Fuel Types Poultry & Chickens Butchery Waste Insulation Board Insulation Fire Brick Fire Brick (Alumina) *We reserve the right to change the specification, dimensions and quality of materials from time to time, so long as the alteration is minor or an improvement to the said product. Addfield Environmental Systems Limited Unit 9 | Zone 4 | Burntwood Business Park Staffordshire | WS7 3XD | United Kingdom © Addfield Environmental Systems Ltd. All information should be used as a guide only, specifications are subjec
Open the catalog to page 1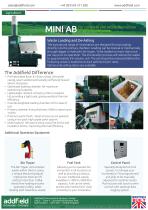 For complete and secure destruction of agricultural waste. Waste Loading and De-Ashing The agricultural range of incinerators are designed for top loading directly into the primary chamber. Loading can be manual or mechanically through digger or hydraulic bin tipper. To be loaded no more than once per day prior to operation. The incineration process will reduce the waste to approximately 3% volume, ash. The ash should be removed before the following waste is loaded to ensure optimum burn rates. Optional de-ashing doors are available. The Addfield Difference • Pre-Fabricated 8mm & 10mm robust...
Open the catalog to page 2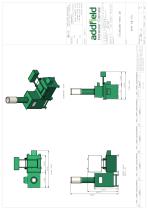 CHECKED APPROVED CHECKED APPROVED FRONT VIEW OPEN LID PLAN VIEW CHECKED APPROVED CHECKED APPROVED COMMENTS FIRST ISSUE CHECKED APPROVED SIDE VIEW ISOMETRIC VIEW This drawing and any information or descriptive material set out on it are the confidential and copyright propertyof Addfield Enviromental Systems, and MUST NOT BEDISCLOSED, COPIED, LOANED in whole or part or used for any purpose without the written permission of Addfield Enviromental Systems. Addfield Environmental Systems LTD (2018) DATE CREATED: MINI AB-GA Addfield Environmental Systems LTD Unit 9, Zone 4 Burntwood Business Park...
Open the catalog to page 3
All Addfield Environmental Systems catalogs and technical brochures

Compare up to 10 products