Catalogs

>

Ag-Bag

>

MX1012 Commercial Ag-Bagger
Catalog excerpts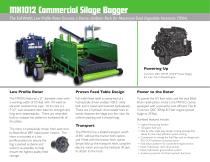 MX1012 Commercial Silage Bagger The Full Width, Low Profile Rotor Ensures a Dense, Uniform Pack for Maximum Total Digestible Nutrients (TDN) Powering Up Cummins QSC 305HP (333HP Power Bulge) 8.3 Liter Tier III Diesel Engine Proven Feed Table Design The MX1012 features a 21" diameter rotor with a working width of 9.5 feet with 110 weld-on abrasion resistant tine caps. At its core is a 9"x2" wall annealed rotor tube for strength and long term dependability. There are reversible bolt-on stripper bar plates for increased life of the plates. Full width feed table is comprised of a hydraulically...
Open the catalog to page 2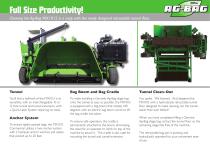 Full Size Productivity! Cleaning the Ag-Bag MX1012 is a snap with the newly designed retractable tunnel floor. Tunnel Clean-Out You'll find a hallmark of the MX1012 is its versatility, with an interchangeable 10 or 12 foot tunnel and tunnel extension, with a Quick-Latch System requiring no tools. To make installing a Genuine Ag-Bag silage bag onto the tunnel as easy as possible, the MX1012 is equipped with a bag boom that rotates 180 degrees, with an electric bag boom winch to lift the bag cradle into place. You spoke. We listened. And designed the MX1012 with a hydraulically retractable...
Open the catalog to page 3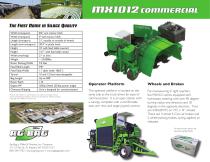 Width (transport) Width (transport) Length (transport) Length (tow transport) Height Height Width (working) Weight Rotor Packing Width Feed Table Length Feed Table Width Tunnel Bag Length Rotor Teeth Engine HP Overseas Shipping 8'6" w/o tractor hitch 9' with tractor hitch 21', outside to outside of wheels 28'4" w. pintle hitch 10' with feed table lowered 12'1" with feed table raised 21' at tires ~ 23,000lbs 9.5 feet 9'8" 11' (belt width 108.5") 10 and 12 foot interchangeable Up to 500' 110 305hp Diesel (333hp power bulge) Unit is designed for containerization Product descriptions or...
Open the catalog to page 4
All Ag-Bag catalogs and technical brochures

Compare up to 10 products