Catalogs

>

APR600
Catalog excerpts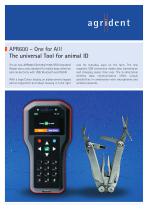 agr ident APR600 – One for All! The universal Tool for animal ID The all new APR600 ISO11784/11785 RFID Handheld Reader sets a new standard for mobile data collection and connectivity with USB, Bluetooth and WLAN. With a large Colour display, an alphanumeric keypad and an ergonomic but robust housing it is the right tool for everyday work on the farm. The new magnetic USB connection makes data transmission and charging easier than ever. The bi-directional wireless data communication offers unique possibilities in combination with smartphones and wireless networks.
Open the catalog to page 1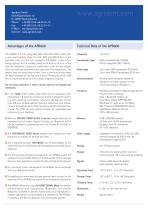 Advantages of the APR600 The APR600 is a fully integrated ISO11784/11875 RFID reader with a very good reading range for both HDX and FDX-B and a long operation time. It is not just a powerful EID Reader. It also offers various options for the reliable collection of data on farm or in the field. Its ergonomic housing in combination with the low weight offers an easy and convenient day long work. The integrated Li-Ion battery lasts for many days of work. Even in continuous read mode the battery charge will last for up to 6 hours. Recharging via the USB Port is simple and quick with the unique...
Open the catalog to page 2
All Agrident GmbH catalogs and technical brochures

Compare up to 10 products