Catalogs

>

AWR100/200 Portable Stickreader
Catalog excerpts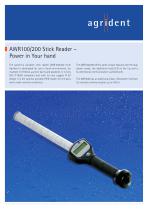 agr ident AWR100/200 Stick Reader – Power in Your hand The powerful portable stick reader AWR100/200 from Agrident is developed for use in harsh environment, for example in feedlots, auction barns and abattoirs. It is fully ISO 11784/5 compliant and with its very rugged IP 67 design it is the optimal portable RFID reader for the daily work under extreme conditions. The AWR100/200 offers some unique features like the dual power mode, the additional read LED at the tip and a bi-directional communication via Bluetooth. The AWR200 has an additional Class 1 Bluetooth interface for wireless communication up to 100 m.
Open the catalog to page 1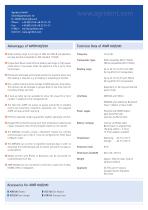 Great reading range for all type of HDX and FDX-B transponders, ear tags and boli compatible to ISO standard 11784/5. Transponder types HDX compatible (ISO 11784/5) FDX-B compatible (ISO 11784/5) Reading range Unique Dual Power mode offers a leading read range in high power mode while in low power mode the operation time is up to three times longer. Permanent read mode with animal counter for situation where very fast reading is required, e. g. at loading or unloading of animals. Up to 32 cm (12,5") with FDX-B Ear tag Ø 30 mm transponders Non-volatile memory allows storage of 5000 tags plus...
Open the catalog to page 2
All Agrident GmbH catalogs and technical brochures

Compare up to 10 products