Catalogs

>

AWR250 Stickreader
Catalog excerpts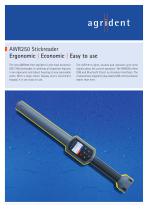 agr ident AWR250 Stickreader Ergonomic | Economic | Easy to use The new AWR250 from Agrident is the most economic ISO11785 stickreader. It combines all important features in an ergonomic and robust housing at very reasonable costs. With a large colour display and a convenient keypad, it is very easy to use. The different lights, sounds and vibration give clear signals about the current operation. The AWR250 offers USB and Bluetooth Class1 as standard interfaces. The revolutionary magnetic plug makes USB communication easier than ever.
Open the catalog to page 1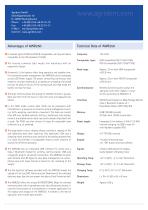 It reads all types of HDX and FDX-B transponders, ear tags and bolus compatible to the ISO standard 11784/5. Transponder types HDX compatible (ISO 11784/11785) FDX-B compatible (ISO 11784/11785) Read range Approx. 25 cm with HDX transponder of Ø 30 mm The housing combines light weight and robustness with an ergonomic design. A powerful Li-Ion battery offers long operation and standby time. For convenient power management the AWR250 can be recharged at any USB Power supply. The power consuming continuous read mode for very fast reading (e. g. at loading or unloading of animals) can last for...
Open the catalog to page 2
All Agrident GmbH catalogs and technical brochures

Compare up to 10 products