Catalogs

>

Ahrens-Transportable-Silos-Bins-Feeders
Catalog excerpts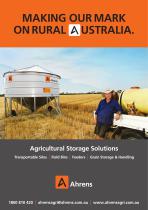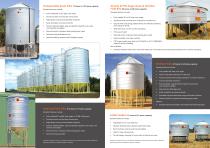 Transportable Grain Silos 17 tonne to 141 tonne capacity Standard features include: • Fully welded 30° to 35° base cone angle • Zincalume steel roof and tank construction • Sight glasses and ground operated lid opener • Easily accessible cone base manhole • External sidewall ladder, cage and platform (specific sizes only), roof handrail and ladder • Sherwell section ring beam (eliminating grain traps) • Delivered fully assembled to site • Optional sealing, aeration and fumigation system Seed and Feed Silos 10 tonne to 57 tonne capacity Standard features include: • Fully welded 45° and 60°...
Open the catalog to page 2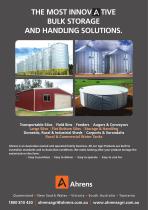 THE MOST INNOV TIVE BULK STORAGE AND HANDLING SOLUTIONS. Transportable Silos | Field Bins | Feeders | Augers & Conveyors Large Silos | Flat Bottom Silos | Storage & Handling Domestic, Rural & Industrial Sheds | Carports & Verandahs Rural & Commercial Water Tanks Ahrens is an Australian owned and operated family business. All our Agri Products are built to Australian standards and to Australian conditions. We make looking after your product storage the easiest job on the farm: • Easy to purchase • Easy to deliver • Easy to operate • Easy to care for. Queensland • New South Wales • Victoria •...
Open the catalog to page 3
Compare up to 10 products