Catalogs

>

Sidedigger
Catalog excerpts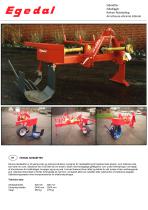 Sideløfter Sidedigger Reihen-Rüttelpflug Arracheuse vibrante latérale EGEDAL SIDELØFTER Denne planteløfter er af særlig svær og solid konstruktion, beregnet for rækkeløftning af højstammede planter, som traktoren ikke kan køre hen over. Maskinen har et 50 eller 60 cm bredt U-skær med bevægelige gaffelgrene, som under fremkøringen ved hjælp af transmission fra kraftudtaget, bevæger sig op og ned, hvorved træerne bliver løftet og befriet for det meste af den vedhængende jord. Standard trepunktet er trinløs forskydeligt på rammen, så skæret altid kan indstilles efter yderkanten af traktorens bagdæk. Stabiliseringsskæret virker kompenserende for sideforskydningen. Tekniske data: Arbejdsbredde: Udvendig bredde: Vægt:
Open the catalog to page 1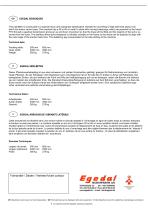 EGEDAL SIDEDIGGER This plantlifter is constructed to a special heavy and substantial specification intended for row-lifting of high-stemmed plants over which the tractor cannot pass. The machine has a 50 or 60 cm wide U-share with moving forkprongs, which are powered by the tractor PTO through a gearbox transmission giving an up and down movement so that the trees will be lifted and the majority of the soil is removed from the roots. The standard three-point headstock is infinitely variable on the frame so the share can be adjusted to align with the outer edge of the tractors back tires....
Open the catalog to page 2
All Egedal Maskinenfabrik catalogs and technical brochures

Compare up to 10 products