Catalogs

>

ROBO-BOX
Catalog excerpts
For easy parking of the mowing robot even without guide cable With the ROBO-BOX, automatic lawn robots can be charged and safely stowed away after work. The ROBO-BOX offers all-round protection against environmental influences such as sun, rain or hail. The robot garage has an electric timer and an upward opening lid with electric lifting motor. This ensures that the lawn robot moves in and out perfectly, even without guide cables. Lateral retraction is possible. In addition, the timer can be set intelligently, e.g. for charging at night. The ROBO-BOX also offers protection against theft thanks to its hinged and lockable lid. The garage is stably secured in the ground with ground anchors. The housing is primed and coated.
Open the catalog to page 1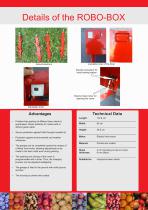 Advantages • Problem-free parking of different lawn robots is guaranteed. Works perfectly for robots with or without guide cable • Secure protection against theft through lockable lid • Protection against environmental and weather influences • The garage can be completely opened by means of a lifting/ hoist motor, allowing adjustments to be made to the lawn robot even during parking. • The opening and closing of the cover is programmable with a timer. Thus, the charging process can be adjusted intelligently. • The garage is fixed in the ground with solid ground anchors • The housing is...
Open the catalog to page 2
All FEUCHT Obsttechnik GmbH catalogs and technical brochures

Compare up to 10 products