Catalogs

>

I-TEK

>

GEVITOP feeding station
Catalog excerpts
GEVITOP feeding station The ergonomic and practical feeding station! 1. Portal height 2.00 m The 2.00 m high portal joins the flank frames for greater rigidity and solidity of the unit. 2. Liftable gate The lifting gate is composed of a very ergonomic gateway that is very rounded and does not injure the sow. It makes insemination, vaccination and sonography easier and is space saving when moving the sows in and out. 3. Feet The feet are reinforced to give the equipment a longer life span. 4. Handle The original, patented locking system makes it possible to manoeuvre the gate without bending down. 6. Vertically barred flank frames Our feeding stations are fitted with raised stainless steel troughs. They allow a better circulation of the air in the pig houses, and a better ventilation of the sow. Further, they save space. Our flanking frames are vertically barred. This prevents the sow from griming on the feeding station and injuring itself.
Open the catalog to page 1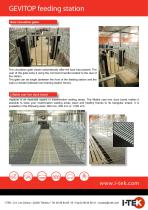 GEVITOP feeding station Boar circulation gates The circulation gate closes automatically after the boar has passed. The user of the gate locks it using the command handle located to the rear of the station. The gate can be single (between the front of the feeding station and the wall) or double (between two feeding station fronts). Liftable cast iron duck board Hygiene is an essential aspect in insemination waiting areas. The liftable cast iron duck board makes it possible to keep your insemination waiting areas clean and healthy thanks to its triangular shape. It is available in the...
Open the catalog to page 2
All I-TEK catalogs and technical brochures
Compare up to 10 products