Catalogs

>

Herbicide Beams for Berries TEKLA
Catalog excerpts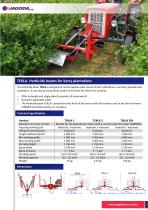 HERBICIDE BEAMS TEKLA- For Berry Bushes Proper care guarantees a successful harvest for plantations and orchards TOLA- For Blueberry Bushes JAGODA JPS is a manufacturer of high-quality modern herbicide beams intended for weed control in orchards and berry bush plantations. Our beams are distinguished by reliable operation and their unique design allows to minimize the negative impact of herbicides on health and the environment: the use of protective curtains and ejector nozzles protects against spraying tree branches and shrubs; the tilting structure of the working part of the device allows for more precise application of the liquid in the working area, preventing spraying of the undesirable area and damaging the device; the special design of the sprayer modules enables spraying as close to a bush or tree as possible; our herbicide booms are offered in double and single sided versions. SMART FRUIT FARMING Over 30 years, JAGODA JPS is a leading designer & manufacturer of orchards and berry fruits machinery
Open the catalog to page 1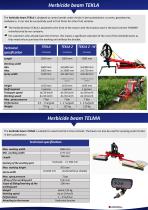 Herbicide beam TEKLA The herbicide beam TEKLA is designed to control weeds under shrubs in berry plantations: currants, gooseberries, chokeberry. It can also be successfully used in fruit farms for other fruit varieties. The herbicide beam TEKLA is attached to the front of the tractor with the bracket used in the bush trimmer FORMER manufactured by our company. For customers who already have the trimmer, this means a significant reduction of the cost of the herbicide boom as they need only to purchase the working unit without the bracket. Working width Min. Max. Spray width Technical...
Open the catalog to page 2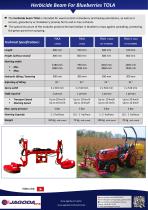 Herbicide Beam For Blueberries TOLA The herbicide beam TOLA is intended for weed control in blueberry and haskap plantations, as well as in currant, gooseberry or chokeberry (aronia) farms and in tree orchards. The special structure of the modules protects the bark ballast in blueberry crops against spreading, protecting the green parts from spraying. TOLA TILT CYLINDERS TILT CYLINDERS Height (without stand) Technical Specifications: Hydraulic lifting / lowering Adjusting of tilting Spray width Staff required ▪ ▪ Transport Speed Working Speed Max. spray pressure Working Capacity Weight...
Open the catalog to page 3
All JAGODA JPS Agromachines catalogs and technical brochures

Compare up to 10 products