Catalogs

>

ECU BRIDGE
Catalog excerpts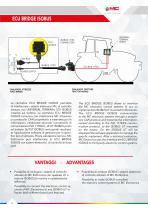 UNIVERSAL TERMINAL ISOBUS POWER SUPPLY CABLAGGIO TRATTORE TRACTOR WIRING CABLAGGIO ATTREZZO TOOL WIRING La centralina ECU BRIDGE ISOBUS permette di interfacciare i sistemi elettronici MC di controllo attrezzo con UNIVERSAL TERMINAL (UT) ISOBUS installati sul trattore. La centralina ECU BRIDGE ISOBUS comunica con l'elettronica MC attraverso un protocollo CAN proprietario e trasmette poi le informazioni, rielaborate secondo il protocollo di comunicazione ISO 11783/6, all'UT ISOBUS posto sul trattore. Sull'UT ISOBUS verrà quindi visualizzata l'applicazione software di gestione per lo specifico...
Open the catalog to page 2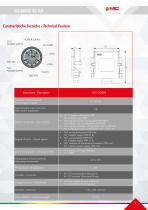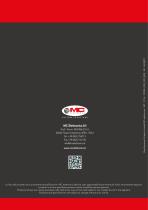 MC Elettronica Sri Via E. Fermi, 450/486 (Z.A.I.) 45024 Fiesso Umbertiano (RO) - ITALY Tel. +39 0425 754713 Fax +39 0425 741130 info@mcelettronica.it www.mcelettronica.it Le foto dei prodotti sono puramente esimplificantive. MC elettronica declina ogni responsabilita per eventuali refusi nel presente depliant. I prodotti e le loro specifiche possono subire modifiche senza preavviso. Product pictures are merely examples. MC elettronica may not be held liable for any mistake found in this depliant. Products and specifications are subject to change without prior notice.
Open the catalog to page 4
All MC Elettronica srl catalogs and technical brochures

Compare up to 10 products