Catalogs

>

SmartFeed PFA-9400/PFV-9400
Catalog excerpts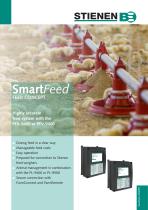 SmartFeed FEED CONCEPT Highly accurate feed system with the PFA-9400 or PFV-9400 Dosing feed in a clear way Manageable feed costs Easy operation Prepared for connection to Stienen feed weighers Animal management in combination with the PL-9400 or PL-9500 Secure connection with FarmConnect and FarmRemote S
Open the catalog to page 1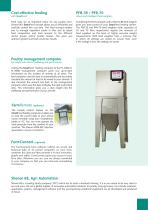 Cost-effective feeding Feed costs are an important factor for any poultry farm. Stienen BE's SmartFeed concept allows you to efficiently and carefully control this cost item. This feed concept enables you to manage ingredient stocks in silos and to adjust feed composition and feed amount to the different animal groups and/or poultry houses. This gives you optimum growth and feed conversion results. Combining the feed computer with a Stienen BE feed weigher gives you total control of your SmartFeed feeding system. The PFB-35 and PFB-70 feed weighers (with capacities of 35 and 70 litres...
Open the catalog to page 2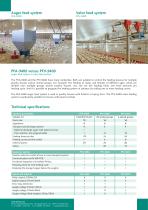 Auger feed system PFA-9400 Valve feed system PFV-9400 PFA-9400 versus PFV-9400 auger feed system or valve feed system The PVA-9400 and the PFV-9400 have many similarities. Both are suitable to control the feeding process for multiple poultry houses and/or animal groups. For example, the feeding of males and females of different ages, which are divided over multiple groups and/or poultry houses. You can set the feeding times and feed amounts per feeding cycle. And it is possible to program the feeding system in advance by setting one or more feeding curves. The PFA-9400 auger feed system is...
Open the catalog to page 3
All STIENEN Bedrijfselektronica B.V. catalogs and technical brochures
Compare up to 10 products