Catalogs

>

tasias

>

rock-picker-mx-20
Catalog excerpts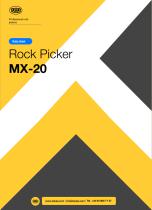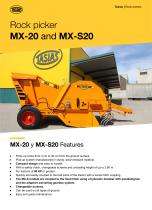 Tasias | Rock pickers • Picks up rocks from 3 cm to 30 cm from the ground surface. • Pick-up system manufactured in sturdy, wear-resistant material. • Compact design and easy to handle. • With a safety clutch, changeable screens and unloading height of up to 2.80 m. • For tractors of 80 HP or greater. • Quickly and easily coupled to the ball joints of the tractor with a swivel hitch coupling. • The MX-S models are coupled to the fixed hitch using a hydraulic drawbar with parallelogram and the adaptive swivelling gearbox system. • Changeable screens. • Can be used on all types of ground. •...
Open the catalog to page 2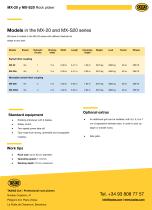 Models in the MX-20 and MX-S20 series We have 4 models in the MX-20 series with different features to adapt to any task. Models Breaks Hydraulic Working Width Length Unloading Weight Load Tractor Wheels circuits width height Swivel hitch coupling MX-20 No 1 2 m 2.38 m 5.41m 1.80 m 3270 kg 4000 kg 80 cv 285/70 Moveable swivel hitch coupling MX-S20 No 2 2 m 2.38 m 5.95 m 1.80 m 3370 kg 4000 kg 80 cv 285/70 Standard equipment • Rotating introducer with 3 blades. • Safety clutch. • Two-speed power take-off. • Tips made from strong, reversible and changeable material. Work tips • Rock size: Up...
Open the catalog to page 3
All Tasias catalogs and technical brochures

Compare up to 10 products