Catalogs

>

Delair UX11 AG long-distance drone and delair.ai platform.
Catalog excerpts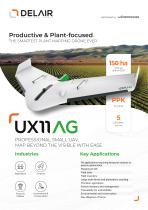 "1 DELAIR AERIAL INTELLIGENCE THE SMARTEST PLANT MAPPING DRONE EVER PROFESSIONAL SMALL UAV, MAP BEYOND THE VISIBLE WITH EASE Industries Key Applications All applications requiring temporal analysis or precise geolocation Mapping & GIS Field trials Field inventory Large scale farms and plantations scouting Precision agriculture Forest inventory and management Traceability for sustainibility Environmental and conservation Due diligence of farms
Open the catalog to page 1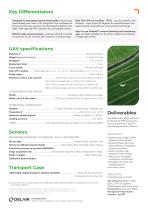 Key Differentiators Designed for best grade spectral data quality and precisely geolocalized plant data. Fully integrated true multispectral camera for bird view, biomass and chlorophyll insights in one flight. With optional PPK activation for surveygrade results. BVLOS-ready communications - optional radio link or mobile connectivity via 3G network (4G-ready) for unlimited range. Bird Take Off and Landing - BTOL - precise takeoffs and landings - high-angle (30 degrees) for restricted areas, lowspeed landing using distance measurement technology. Easy-to-use Android™ mission planning and...
Open the catalog to page 2
All WINTERSTEIGER AG catalogs and technical brochures

Compare up to 10 products